| | |
| --- | --- |
| The Italian Route | |
The Italian Route of the "European Route of Historic Theatres" runs across Northern Italy, the only region in the world where one can follow the history of theatre from the Renaissance to the 19th century.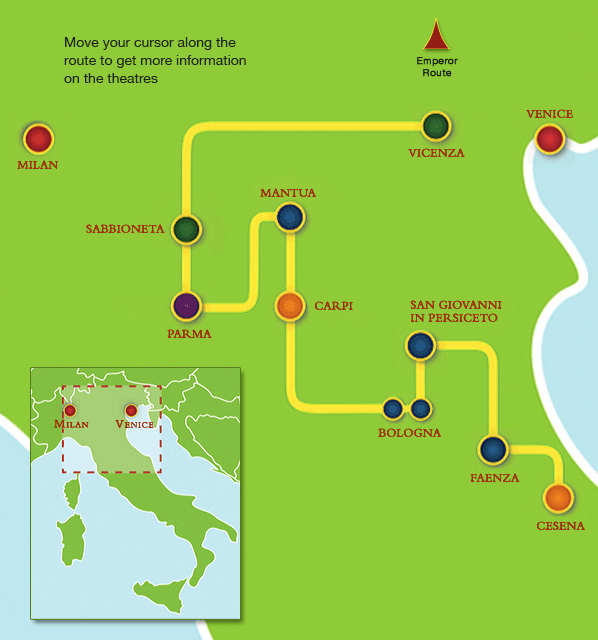 After the Medieval times when theatre performances had only been possible during religious festivities, the Renaissance rediscovered ancient Greek and Roman civilization and its worldly theatre. Academies were founded to study the sources and revive mostly Greek tragedies. So it does not come as a surprise that the oldest preserved theatre in Europe, the Teatro Olimpico in Vicenza, was commissioned by such an Academy. Here the architect Andrea Palladio transferred the model of the ancient Roman open-air theatre into a closed room. Vincenzo Scamozzi completed the theatre in 1585 and moved to Sabbioneta where he erected the first purpose-built theatre in Europe, the Teatro all'Antica (1590). Both theatres feature an open stage that does not allow to change the stage decoration. A portal behind which the scenery can be changed appears for the first time in the Teatro Farnese (1618) in Parma. Here the age of Baroque took off with its spectacular stage effects, while the auditorium still recalls an ancient theatre.
The first half of the 17th century saw a new theatric form: opera. And with it came a new kind of building: the opera house with many circles of boxes stacked up the wall, a form that has been influencing the way of building theatres till today. Since no theatres have been preserved from those days, the journey continues in the 18th century with another theatre for an Academy, the Teatro Scientifico in Mantua. It was built in 1767 by Antonio Galli Bibiena, scion of a famous family that built theatres everywhere in Europe for five generations. On the way to Bologna the perfectly preserved Teatro Comunale (1861) in Carpi allows a glimpse into the 19th century, before the journey through the 18th century continues in Bologna with the Teatro Comunale (1763), another oeuvre by Antonio Galli Bibiena. Besides public theatres, there were private theatres, for example in the villa Aldrovandi Mazzacorati, not far from Bologna's city centre, where a real gem of a theatre dating from the same year can be found.
In 1790 the Teatro Comunale Politeama in the town hall of San Giovanni in Persiceto replaced an earlier theatre interior that had been constructed in the same hall for an Academy already in 1659. Like a twin brother, but still very different, appears the classicist auditorium of the Teatro Comunale Angelo Masini (1788) in Faenza. At the end of the tour, the Teatro Bonci (1846) in Cesena demonstrates again what an Italian-style theatre looked like in the middle of the 19th century. 
With the support of the Culture Programme of the European Union