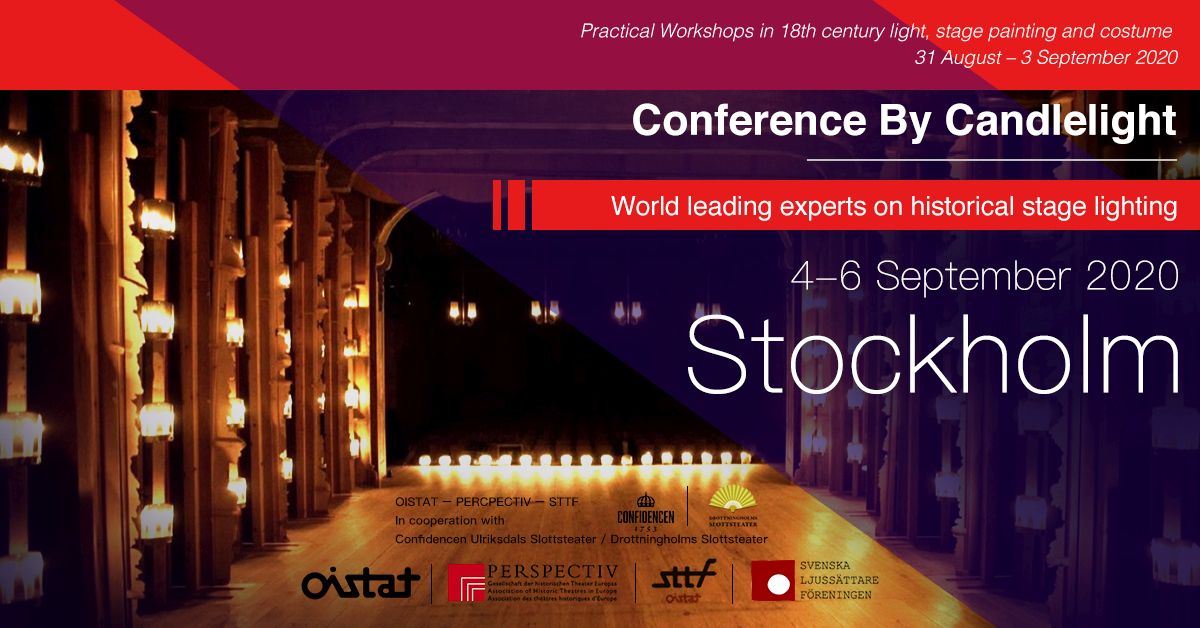 Conference by Candlelight in Stockholm
2022 2022 2022
Main conference 3 days 3 - 5 june 2022
Workshops before conference 2 - 4 days 1-3 june 2022
An opportunity to consider the qualities, uses and experiences of candlelit performance and its relevance to 21st century theatre. How can we reliably recreate 18th century stage lighting in a time of rapid development of new environmentally friendly and sustainable technology?
Preliminary MAIN conference programme 2022
Friday
9:00 Bus from Hotel to Drottningholms Slottsteater, Ekerö
9:30 - 17:00 Presentations un the stage of Drottningholms Slottsteater
Boat to Stockholm
19.00. Dinner hosted by City of Stockholm in City Hall
Saturday
Bus from Hotel Amaranten to Confidencen, Ulriksdals Slottsteater, Solna
9:30 - 17:30 Presentations
Conference programme will include refreshment breaks during the day
18:00 Conference dinner
Approx. 20:00 Bus to Hotel Amaranten
Sunday
Outing to Gripsholm Palace
End of conference
The conference is a collaborative event arranged by
PERSPECTIV - Association of Historic Theatres in Europe
OISTAT - International Organisation of Scenographers, Theatre Architects and Technicians
STTF - Swedish Association of Stage Technicians
SLF - Swedish Lighting Designers Association
Confidencen Ulriksdals slottsteater and Drottningholms Slottsteater.
The conference is supported by the City of Stockholm.