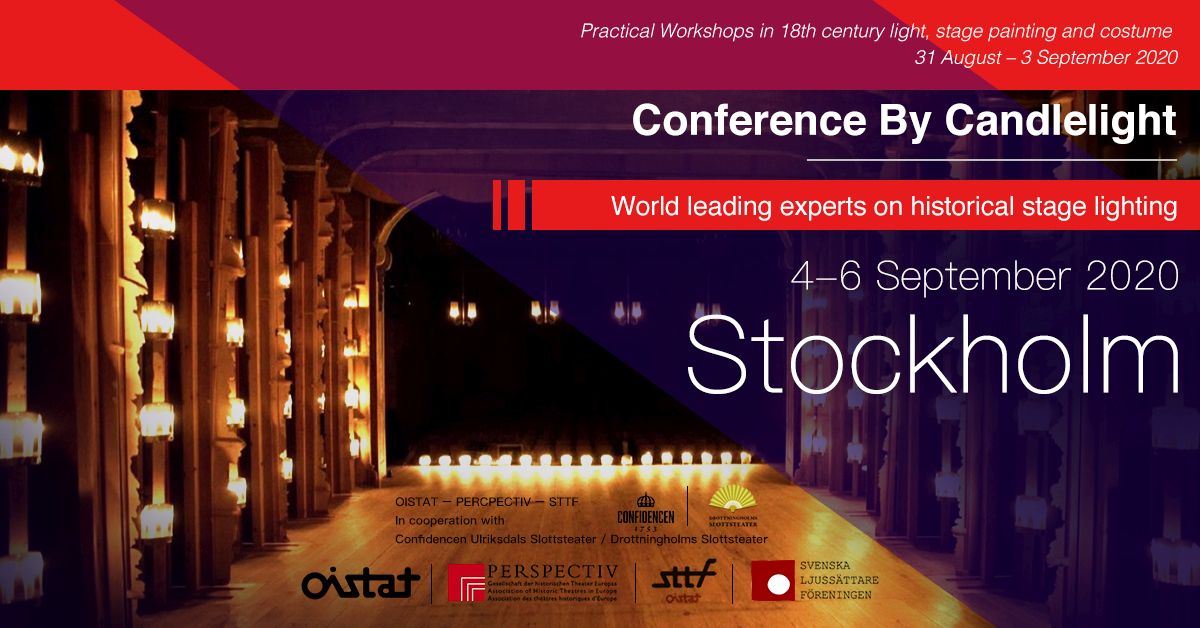 Conference by Candlelight in Stockholm
Main conference 4-6 September, 2020
Workshops 30 August - 3 September, 2020
An opportunity to consider the qualities, uses and experiences of candlelit performance and its relevance to 21st century theatre. How can we reliably recreate 18th century stage lighting in a time of rapid development of new environmentally friendly and sustainable technology?
Preliminary MAIN conference programme
Conference Hotel:
Hotel Amaranten
Kungsholmsgatan 31
112 27 Stockholm
Friday, 4.9.2020
9:00 Bus from Hotel Amaranten to Drottningholms Slottsteater, Ekerö
9:30 - 13:00 Presentations include
Why reconstruct historic lighting?
The History of stage lighting
The Drottningholm Experience: reconstruction of historic stage lighting using electricity
The Eye and its Perception of Light and Colors
There will be coffee break during the morning sessions which will be followed by lunch
13:30 Bus from Drottningholm to Hotel Amaranten
Afternoon - meetings as arranged by OISTAT and Perspectiv
19.00. Dinner hosted by City of Stockholm in City Hall
Saturday 5.9.2020
8:45 Bus from Hotel Amaranten to Confidencen, Ulriksdals Slottsteater, Solna
9:30 - 17:30 Presentations include
The Confidencen Experience: reconstruction of historic stage lighting using candles
Experiences from other theatres in Europe using real candles in present day performances
Workshop conclusions: set painting, stage lighting, costumes and make-up – what can we learn from viewing examples in candle light and electric historical light on the stage in Confidencen?
Presentation of some of the latest research into reconstructed 18th century lighting
Technical solutions from lighting companies
Panel discussion: what is the future?
Conference programme will include refreshment breaks during the day
18:00 Conference dinner in Ulriksdals Wärdshus
Approx. 20:00 Bus to Hotel Amaranten
Sunday, 6.9.2020
Outing to Gripsholm Palace
9:00 Bus to Mariefred and the Gripsholm Palace Theatre
10:00 – 12:00 Visit Gripsholm Palace, guided tour of the theatre
12:00 Bus to Hotel Amaranten
End of conference
Conference fee 4000 SEK
Conference fee members PERSPECTIV/OISTAT/STTF/SLF 3000 SEK
Conference fee students 2500 SEK
Conference fee student members PERSPECTIV/OISTAT/STTF/SLF 2000 SEK
Included in conference fee:
Conference fee includes all lectures and presentations, guided tour Gripsholm Palace, transportation between conference venues (except to City Hall which is 10 min walk from hotel) lunch and refreshments on conference days, City Hall buffet reception and conference dinner.
For accommodation, participants will be able to book their room in Hotel Amaranten via a special link provided by the conference administration.
Rules for application:
PROLONGED APPLICATION PERIOD! The application period runs until 15.4.2020
Due to the restrictions of the historical buildings the conference takes place in, the number of applicants is limited.
You will receive payment details if your application is accepted on 4.5.2020
If the number of applicants is bigger than the number of available places, you will be put on a waiting list.
Payment is expected between 4.5.2020 and 15.5.2020, by bank transfer to the Swedish account number of the organization, that will be provided if accepted.
Places that aren't paid for in this period, will be granted to the people on the waiting list.
After your payment, your application is binding and not refundable.
The conference is a collaborative event arranged by
PERSPECTIV - Association of Historic Theatres in Europe
OISTAT - International Organisation of Scenographers, Theatre Architects and Technicians
STTF - Swedish Association of Stage Technicians
SLF - Swedish Lighting Designers Association
Confidencen Ulriksdals slottsteater and Drottningholms Slottsteater.
The conference is supported by the City of Stockholm.