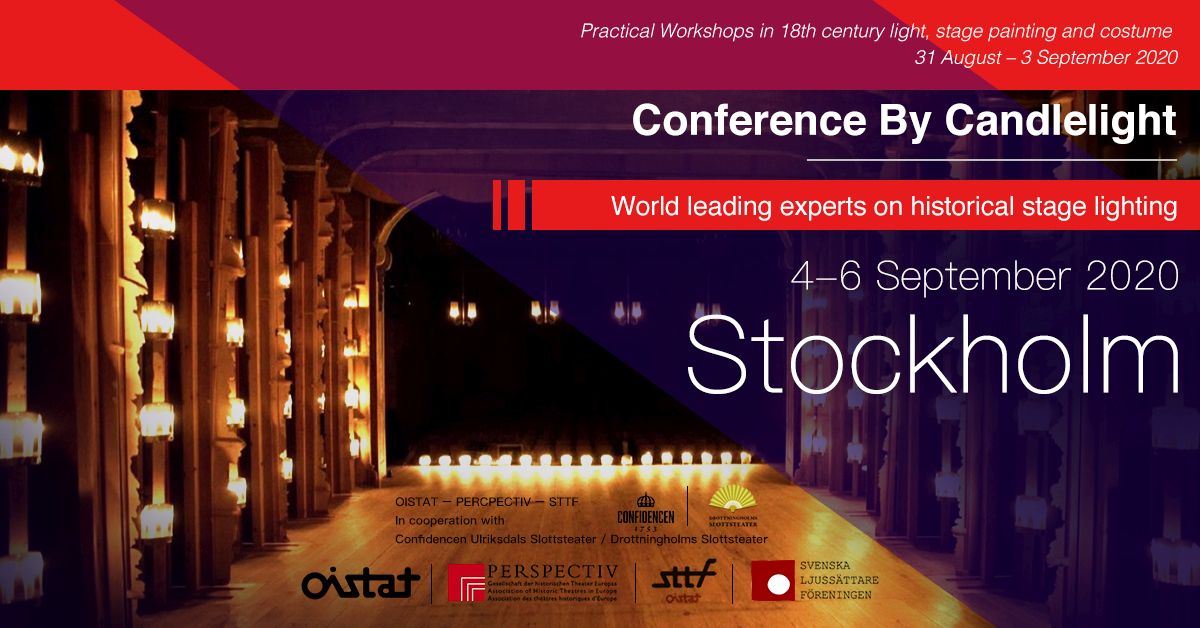 Conference by Candlelight in Stockholm
2021 2021 2021
In the light of the COVID-19 outbreak, the OISTAT and Perspectiv Associations have decided to postpone the Conference by Candlelight, including the workshops, until summer 2021.
Our main concern is the health of our members and colleagues and minimize risks for everyone involved. Since the main purpose of the conference is for specialists from all over the world to meet in person and offering them a chance to study a stage with traditionally painted scenery and period costumes being lit by real candles, we feel this very purpose would be irretrievably lost should the conference be turned into a virtual event.
We will shortly announce new dates for the conference and workshops in 2021 – hoping that by then the closed borders, travel restrictions and social distancing will have gone back to normal.
Main conference 3 days
Workshops before conference 2 - 4 days
An opportunity to consider the qualities, uses and experiences of candlelit performance and its relevance to 21st century theatre. How can we reliably recreate 18th century stage lighting in a time of rapid development of new environmentally friendly and sustainable technology?
Preliminary MAIN conference programme 2021
Conference Hotel:
Hotel Amaranten
Kungsholmsgatan 31
112 27 Stockholm
Friday
9:00 Bus from Hotel Amaranten to Drottningholms Slottsteater, Ekerö
9:30 - 13:00 Presentations include
Why reconstruct historic lighting?
The History of stage lighting
The Drottningholm Experience: reconstruction of historic stage lighting using electricity
The Eye and its Perception of Light and Colors
There will be coffee break during the morning sessions which will be followed by lunch
13:30 Bus from Drottningholm to Hotel Amaranten
Afternoon - meetings as arranged by OISTAT and Perspectiv
19.00. Dinner hosted by City of Stockholm in City Hall
Saturday
8:45 Bus from Hotel Amaranten to Confidencen, Ulriksdals Slottsteater, Solna
9:30 - 17:30 Presentations include
The Confidencen Experience: reconstruction of historic stage lighting using candles
Experiences from other theatres in Europe using real candles in present day performances
Workshop conclusions: set painting, stage lighting, costumes and make-up – what can we learn from viewing examples in candle light and electric historical light on the stage in Confidencen?
Presentation of some of the latest research into reconstructed 18th century lighting
Technical solutions from lighting companies
Panel discussion: what is the future?
Conference programme will include refreshment breaks during the day
18:00 Conference dinner in Ulriksdals Wärdshus
Approx. 20:00 Bus to Hotel Amaranten
Sunday
Outing to Gripsholm Palace
9:00 Bus to Mariefred and the Gripsholm Palace Theatre
10:00 – 12:00 Visit Gripsholm Palace, guided tour of the theatre
12:00 Bus to Hotel Amaranten
End of conference
The conference is a collaborative event arranged by
PERSPECTIV - Association of Historic Theatres in Europe
OISTAT - International Organisation of Scenographers, Theatre Architects and Technicians
STTF - Swedish Association of Stage Technicians
SLF - Swedish Lighting Designers Association
Confidencen Ulriksdals slottsteater and Drottningholms Slottsteater.
The conference is supported by the City of Stockholm.