| | |
| --- | --- |
| The Channel Route | |
The Channel Route leads to selected historic theatres in Great Britain and - across the Channel - in the Netherlands and Belgium.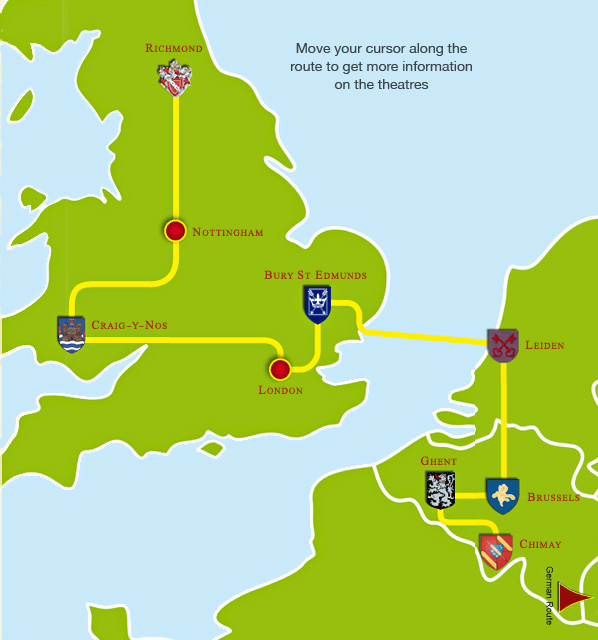 From Shakespeare's time onward, British theatre history has been the story of commercial enterprises. Some managers of travelling theatre companies built theatres in various cities to form a circuit on which they could perform all year round by travelling from one of their theatres to the next. Britain's most complete Georgian playhouse was built on such a circuit: the Georgian Theatre Royal (1788) in Richmond, North Yorkshire, where the Route starts. Another theatrical enterprise developed in Queen Victoria's days: the music hall. On the way south, a nice stop for lunch is the "Malt Cross" in Nottingham, a small and beautiful music hall from 1877 that is still run as a pub and concert venue (closed on Sundays). In Wales, near Swansea, the international opera star Adelina Patti added a private theatre to her castle in 1891. It is entirely preserved, including the stage, whereas Craig-y-Nos Castle has been transformed into a boutique hotel – a great place to stay for every theatre lover.
Via London with its abundance of theatres and shows the Route leads to the Theatre Royal in Bury St Edmunds. Opened in 1819 as part of the Norwich circuit of theatres, it is the only Regency theatre left in the UK today.
From nearby Harwich ferry boats take you across the Channel to Hoek van Holland.
Although the Dutch have a long theatre tradition, more than half of the theatre buildings in the Netherlands date from after 1945, and the older ones have been remodelled again and again. The oldest still operating theatre in the country, the Schouwburg in Leiden that opened in 1705, is a perfect example.
When the Dutch founded their Republic in 1581, the Southern Netherlands remained occupied by a succession of foreign powers. In 1831 they finally became independent as the Kingdom of Belgium. The history of this country is mirrored in the Théâtre Royal du Parc in Brussels, founded in 1782, a "bonbonnière" style theatre so typical for this region. In nearby Ghent, a unique example of a Flemish opera house can be found, complete with a suite of three stately halls stretching for 180 feet, leading to an equally magnificent auditorium (1840/1887). A couple of hours to the south, the private theatre in the palace of Chimay, inaugurated in 1863, illustrates the connections between this part of the country and France.
From here one can either drive into France or continue the journey on the German Route of the "European Route of Historic Theatres."
Or find more theatres offering guided tours in the three countries on the website Visit Theatres.
With the support of the Culture Programme of the European Union