| | |
| --- | --- |
| The nordic Route | |
The Nordic Route connects unique historic theatres in Denmark, Norway, Sweden, and Finland. (Please move your cursor along the Route to get detailed information on the theatres.)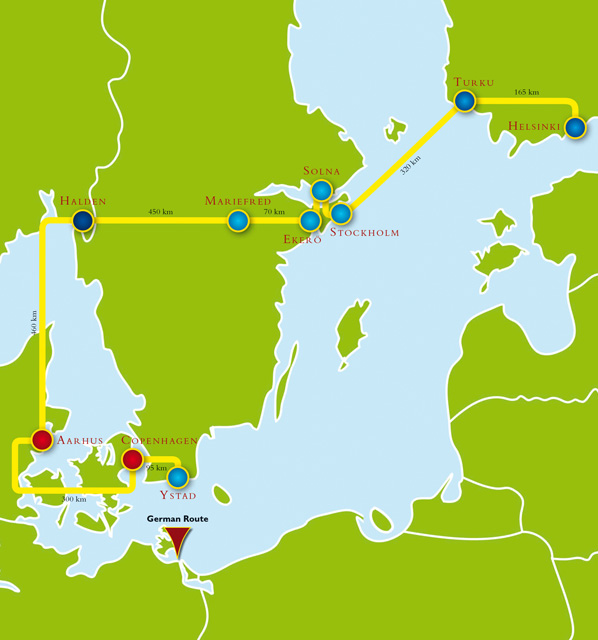 In the beginning of Nordic theatre history, kings and queens played their part. Thus our journey starts just outside Stockholm, at Drottningholm Court Theatre (1766), built at the request of Queen Lovisa Ulrika, and still completely preserved today. Not far away, in Solna, we find Ulriksdal Palace and Confidencen, a royal theatre constructed already in 1753, also at the request of the Queen. Her son, King Gustaf III, founded the National Opera, the National Dramatic Theatre, and the Royal Academy of Music in order to foster plays, operas and performances in the Swedish language. His very own private theatre from 1785 is part of Gripsholm Palace in Mariefred and preserved entirely. When the king was murdered at a masked ball at the Stockholm opera house, all three palace theatres were closed and remained so for more than 100 years.
Travelling west along the lakes and through the forests of Sweden and crossing the border into Norway, we arrive in the city of Halden, not far from Oslo. Fredrikshalds Theatre (1838) houses Norway's best preserved historic stage, original stage sets and props. Originally built by a local theatre group and the city, it was carefully restored in 1982.
Taking a ferry, we go to Denmark and to Aarhus, where we find Elsinore Theatre (1817) which was moved here from Hamlet's hometown in 1961. Financed by the townspeople, it gives us a clear picture of middle class public life in this period.
In Copenhagen, the danish king had his Court Theatre built in 1767. Remodelled by a successor in the mid-19th century, it is today the home of the national Theatre Museum.
From Denmark, the Oresund Bridge takes us into the south of Sweden and to the theatre in Ystad, built 1893-94 in the neoclassicist style. Ystad Theatre was one of the last theatres in Europe to be equipped with a "baroque" stage machinery; for the 100th anniversary this was restored to working conditions. Ystad theatre also holds a unique collection of original stage sets made by C. L. Grabow, a famous set designer who worked for many Nordic theatres. Take a ferry from here via the island of Bornholm to the island of Ruegen and continue on the German Route...
To get the most out of the Nordic Route one should travel between May and September since some of the theatres are only open during this period. Please check opening hours and seasons for each theatre.
With the support of the Culture Programme of the European Union