The Adriatic Route of historic theatres opens South East Europe to you. One can approach either from Austria (Emperor Route) or from the Italian Route, and then follow the route in Slovenia, Croatia, Bosnia & Herzegovina, Serbia, and Montenegro. (Please move your cursor along the Route to get detailed information on the theatres.)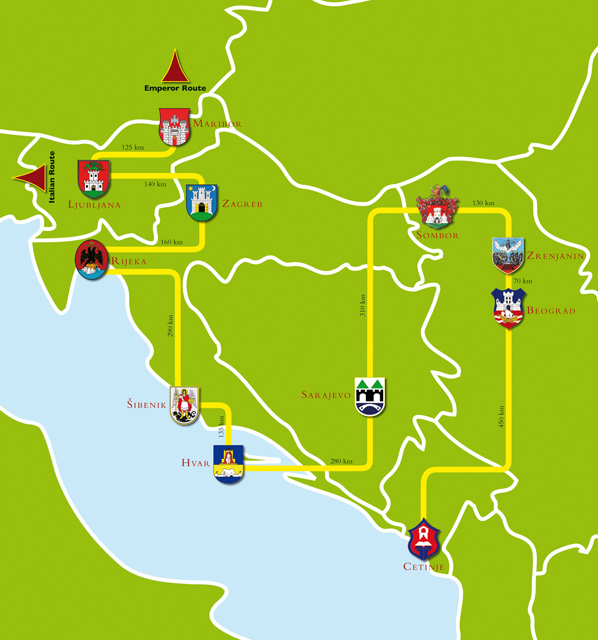 The first stop is Maribor in Slovenia. The Slovenian National Theatre was built in 1852 in classicistic style, while its auditorium is neobaroque. In Ljubljana, there are two important theatres: the Opera House, an impressive building from 1892, designed by the architects Hrasky&Hruby, and the Slovene Drama Theatre, a secessionist building by Aleksandar Graf (1911), which originally was the theatre of the German speaking citizens.
From Ljubljana we proceed to the capital of Croatia, Zagreb, and its biggest theatre, the Croatian National Theatre, inaugurated in 1895. This neobaroque building was designed by the famous Viennese architects Fellner and Helmer. The theatre owns eight painted curtains of exceptional beauty. Ten years earlier, the same architects had designed the beautiful National Theatre "Ivan pl. Zajc" in Rijeka that today offers productions in Italian, too. Its ceiling is decorated with six allegories, four by Klimt brothers. Still earlier, 1863-1870, Josip Slade Šilović from Trogir built the eclectic city theatre in Šibenik.

On the island of Hvar, we discover the oldest communal theatre in Europe. It was installed in 1612 in a preexisting building, the Arsenal. The present auditorium was designed by Crescini in 1803.
Leaving the Adriatic coast, we drive into Bosnia & Herzegovina. The most important theatre in the country is the National Theatre in Sarajevo, built to designs by Karlo Paržik in 1921.
Going up North through Serbia, we visit the theatre in Sombor, featuring the historistic style of 1882. The oldest theatre in Serbia opened in 1839 in Zrenjanin and is named after the great Serbian actor Toša Jovanović. The biggest theatre in the region can be found in Belgrade. Built in 1868 and redesigned in 1922 by Josip Bukavac, it offers opera, drama and ballet.
The Adriatic Route ends in Montenegro. The Royal Theatre «Zetski dom» in Cetinje rose in 1884–1892 as a culture centre, designed by the architect of the Šibenik theatre (above); today it is one of just two State Theatres in the country.
With the support of the Culture Programme of the European Union