| | |
| --- | --- |
| Iberia Route | |
The Iberia Route of the European Route of Historic Theatres presents the most unique and interesting historic theatres in Portugal and Spain. (Please move your cursor along the route to get more information about the theatres.)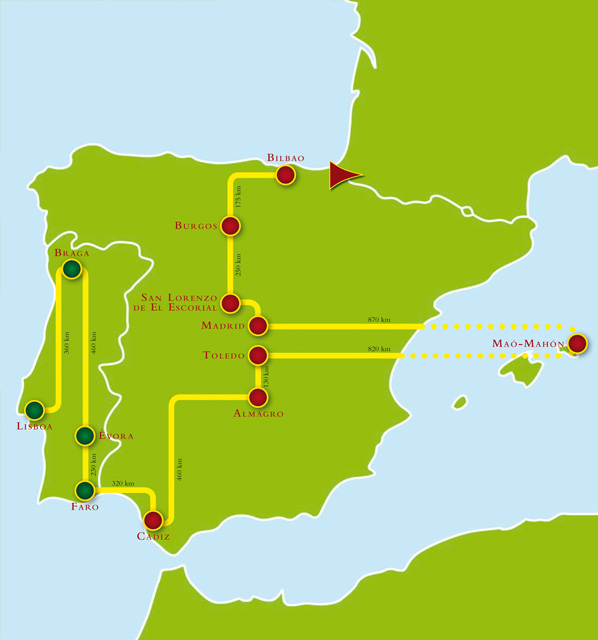 The route starts at the most Western tip of the European continent, in the capital of Portugal, Lisbon. One of Europe's most famous opera houses is located here, the Teatro Nacional de São Carlos. It dates from 1793 and is beautifully preserved.
Up in the north of Portugal, in Braga, we find the Theatro Circo (1915), a unique circus theatre.
In the central part of the country, the Teatro Garcia de Resende (1892) in the medieval city of Évora is the best example of Neo-Baroque style in Portugal.
And in the south, a small but really exceptional theatre can be found in Faro: the Teatro Lethes (1845/1908).
Staying in the south, cross the border into Spain and move to Cadiz. This part of Spain was ruled for a long time by the Arabs, and until today, their style has continued to influence the arts. A fascinating example is the Gran Teatro Falla, built in Moorish style in 1910.
The town of Almagro guards the oldest theatre in Spain: the only preserved Corral de Comedias. In this courtyard theatre from 1620 one can experience what theatre was like in the Golden Age of Spanish literature, the times of Cervantes, Lope de Vega, Calderón de la Barca and Tirso de Molina.
Not far away, in the world heritage city of Toledo, the Teatro de Rojas (1879) houses a unique treasure: a completely preserved historic stage machinery plus a unique machinery that raises the entire parterre to stage level!
A detour to the island of Menorca introduces the oldest still operating opera house in Spain, the Teatre Principal (1829) in Maó-Mahón.
Back in Madrid the Teatro Español awaits you. It started its life in the 16th century as a Corral de Comedias, like the one in Almagro, and thus all Spanish theatre history can be told by this building!
North of Madrid, the town of San Lorenzo de El Escorial not only features the world heritage monastery and palace, but also the court theatre Real Coliseo de Carlos III, inaugurated in 1771.
Further north, in Burgos, the best preserved theatre from the reign of Queen Isabella II can be found: the impressive Teatro Principal (1858).
The Iberia Route ends in Bilbao with the Teatro Arriaga (1890), the best example of Neo-Baroque style in Spain.