OPERA TOUR
Part of the "European Route of Historic Theatres" 2007-2009 project was an opera production that toured to theatres on the route:
the dance opera "Moving Handel"
Here words, music, noises, and dance form a symbiosis that overcomes all borders of the arts. Musicians and singer become an integral part of the choreography, dancers start playing instruments, and all performers let their vocal cords sound.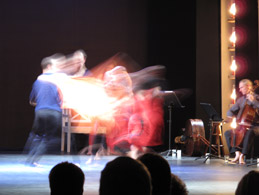 In the acoustic space, arias from operas by Georg Friedrich Handel – sung by soprano Gesine Nowakowski, accompanied on period instruments by the baroque orchestra Lautten Compagney Berlin – alternate with collages of noises from our time, mixed live by sound artist DJ cfm.
Within this acoustic space, a series of scenic pictures develops before the spectators' eyes, meditative and inspiring at the same time, open to all thoughts that arise in the spectator's mind.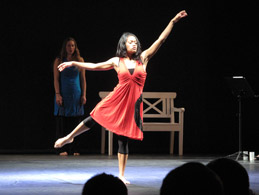 The Baroque meets modern times, opera meets dance, and all borders vanish.
A coproduction of Lautten Compagney Berlin and Heike Hennig & Co (Germany) with the Vadstena Academy (Sweden), supported by the Culture Programme of the European Union.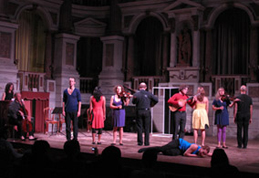 Performances 2009:
18 August Hofteatret, Copenhagen (Denmark)
19 August Vadstena Palace (Sweden)
10 October Goethe-Theater, Bad Lauchstaedt (Germany)
18 October Teatro Scientifico Bibiena, Mantua (Italy)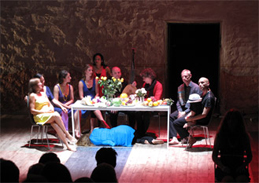 The cast:
Soprano – Gesine Nowakowski
Dancers – Joy Alpuerto Ritter, Helene Sophie Waver, Carlos Osatinsky, Fernando Nicolás Pelliccioli
Sound artist – DJ cfm
Baroque Orchestra Lautten Compagney Berlin
Conductor – Wolfgang Katschner
Choreography, stage and light – Heike Hennig
Costumes – Katrin Hattenhauer & Annica Sandh
Producer for ERHT – Nils Spangenberg
With the support of the Culture Programme of the European Union