EUROPEAN TOURING EXHIBITION:
"THE HISTORY OF EUROPE – TOLD BY ITS THEATRES"
Six theatre museums from six different European countries have jointly created a touring exhibition that was on show from 2015 to 2018 in Warsaw, Copenhagen, Vienna, Munich, Ljubljana, Hanau, London, and Bellinzona. With more than 250 exhibits, the exhibition illustrates how the history of Europe from antiquity to the present is mirrored in the performances and the theatre buildings of the different eras. Therefore, battles or political power play are not in the focus, but mutual influences across all borders and the development of society – all that has shaped Europe and continues to shape it.
In a colourful design, reminiscent of the colours in the flags of European countries, the exhibition presents nine topical chapters, entitled: "The Mediterranean Experience", "Religious Impact", "Changing Society – Changing Building", "Aesthetics and Technology", "The Nation", "Fire!", "Crossing Borders", "War", "Democracy".
The exhibition aims to inspire the visitor and invite him to connect the past and present
on display with the possible future. And obviously, topics like "Changing Society", "Religious Impact", "Democracy", etc are immediately relevant today and to our future.
It is the first time that such a group of museums has created an exhibition as team, each proposing well-chosen exhibits from its own and other collection(s) and discussing all proposals with the colleagues from the partner museums. The result is also a panorama of European theatre collections.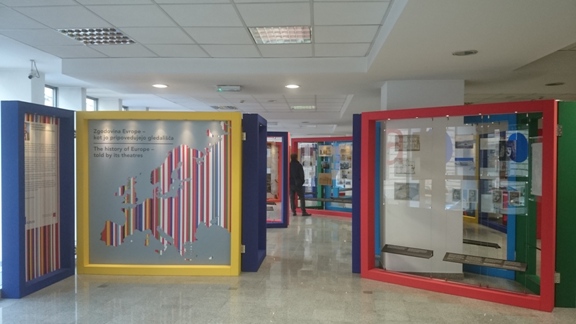 Presently on show
You can visit the entire exhibition on the Internet: www.thoetbit.eu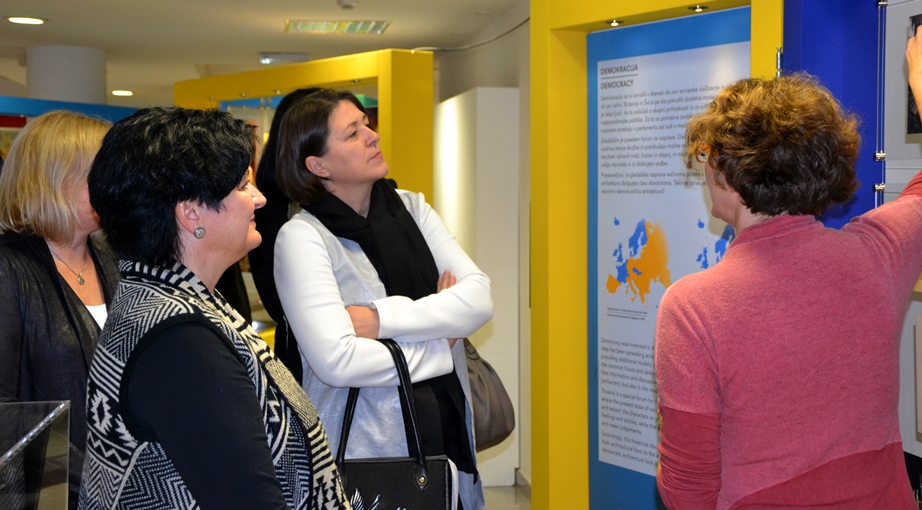 Violeta Bulc, EU Commissioner, visited the exhibition on 18 November 2016. On the left: Mojca Jan Zoran, director of the Slovenien Theatre Institute. On the right: Tea Rogelj, also of the Slovenian Theatre Institute.
The venues of the tour 2015 - 2018
10 February – 30 April 2015
Warsaw (Poland): Teatr Narodowy
www.teatrwielki.pl/en/theatre_museum.html
22 May – 20 September 2015
Copenhagen (Denmark): Theatre Museum at the Court Theatre
www.teatermuseet.dk/content/english
22 October 2015 – 28 March 2016
Vienna (Austria): Theatre Museum
13 May – 03 October 2016
Munich (Germany): German Theatre Museum
24 October 2016 – 3 January 2017
Ljubljana (Slovenia): Ministry of Culture
19 January - 24 February 2017
Hanau (Germany): Neustädter Rathaus
With the special support of Culture Fonds Frankfurt RheinMain and the Hessian State Chancellery
22 March – 03 September 2017
London (United Kingdom):
Victoria and Albert Museum, Theatre and Performance Department
11 November 2017 - 07 January 2018
Bellinzona (Switzerland): Castelgrande
http://www.bellinzonese-altoticino.ch
You can visit the entire exhibition also on the Internet: www.thoetbit.eu
The exhibition was organized as part of the European Route of Historic Theatres
and supported by the Culture Programme of the European Union.