| | |
| --- | --- |
| The Alpine Route | |
Of monks and farmers, citizens and festival goers
The Alpine route of the European Route of Historic Theatres leads through the South of Germany and through Switzerland, back to the roots of European theatre: theatres of holy orders and theatre halls, peasant, box, studio and festival theatres.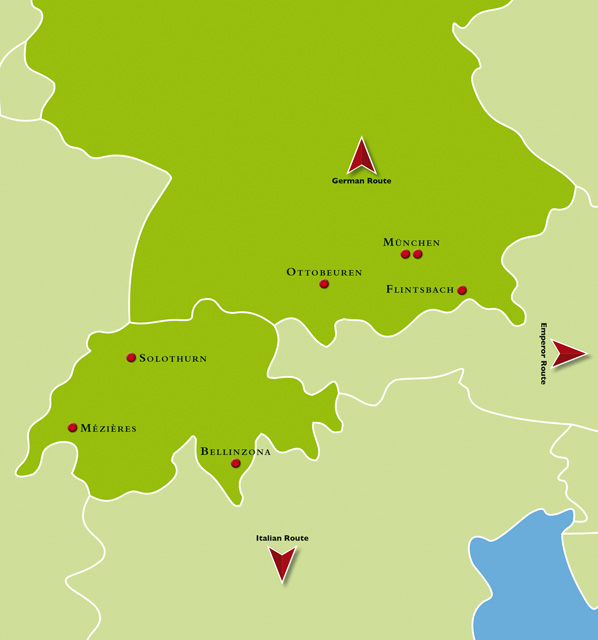 In the 16th century, the Jesuits integrated theatrical play into their education. The oldest theatre in Switzerland, the municipal theatre in Solothurn, was initially used by Jesuit monks. The oldest theatre of Benedictine monks on the other hand is a self-contained theatre that can be found in the baroque monastery of Ottobeuren (Germany).
The peasant population was equally keen on acting and hence built its own theatres. One of the most beautiful playhouses is located in Flintsbach (Bavaria).
The Teatro Sociale in Bellinzona is shows the archetypical auditorium with boxes all around, designed for dazzling Italian operas. The Münchner Kammerspiele, an art nouveau theatre, on the other hand has been exclusively built for intimate plays.
The Prinzregententheater (Prince Regent theatre) and the Théâtre du Jorat in Mézières show how different theatres can be: In Munich the visitors will find a magnificent building for Richard Wagner's operas, whereas in the little village of Mézières, a big wooden theatre hosts the festival of poet René Morax.
Discover this theatrical variety in the surroundings of the stunning Alpine landscape and the Alpine foothills!
With the support of the Culture Programme of the European Union