| | |
| --- | --- |
| The Emperor Route | |
The Emperor Route connects the most interesting historic theatres in the Czech Republic and Austria – two parts of one state during the Habsburg Monarchy.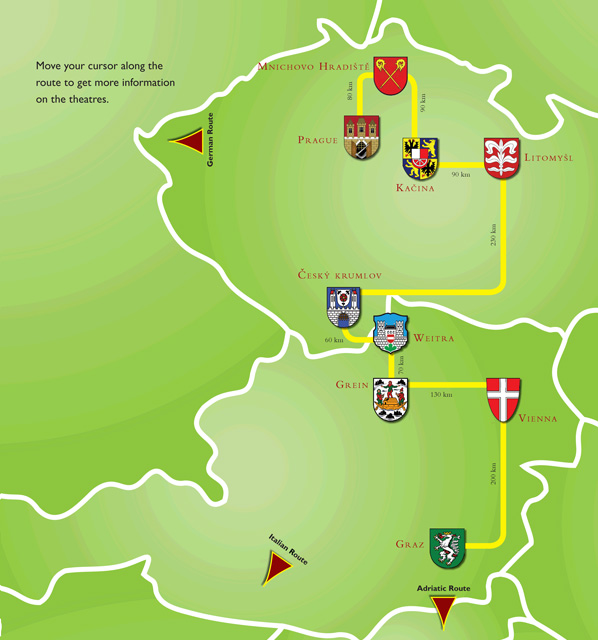 The route starts in Graz, a city with two major historic theatres. With the beautiful building of the Opera (1899), we are being introduced to the works of the Viennese architects Ferdinand Fellner and Hermann Helmer. They built more than 40 theatres throughout the Monarchy and Germany between 1870 and1910 and thus became synonymous with the theatre architecture of this period.
Also in the city stands the Playhouse. It opened in 1776, was rebuilt in 1823 and saved in the 1960s – a mosaic of three clearly defined styles.
The rich theatrical life in Vienna is represented by the Theater an der Wien (1801) where many important events in Austrian theatre history took and still take place. Further up the Danube, we find the oldest preserved bourgeois theatre in Austria, the theatre in Grein, built by local amateur actors
in 1791. Near the border with the Czech Republic, the palace theatre (1885) in the Fürstenberg's castle at Weitra introduces us to the world of private aristocratic theatre that
had been spreading from Vienna to palaces in the whole Monarchy.
The Emperor Route continues in the Czech Republic with a wealth of these aristocratic theatres. A real jewel is the castle theatre (1768) in Český Krumlov, preserved in its original state, including the ready for use stage machinery, stage decorations, props and costumes, all from the 18th century. In the Renaissance palace of Litomyšl we find the second oldest palace theatre (1798) as
well as a collection of stage decorations created around 1800 by Josef Platzer, the famous Viennese theatre painter.
Kačina palace, built 1806–1822, is one of the most beautiful Classicist buildings in the Czech Republic, complete with a palace theatre that opened in 1851, whereas the palace theatre in Mnichovo Hradiště owes its existence to a meeting of the three emperors of the Holy Alliance in 1833. Here, too, a large number of original equipment and costumes have been preserved.
The grand finale of the Emperor Route is the oldest operating professional theatre in the country, the Estates Theatre (1783/1859) in Prague, a symbol of the rich tradition of Czech and German theatre in the 18th and 19th century.
See the theatres also on film!
The Emperor Route has its own channel on YouTube, where a film on each theatre is being published by and by. Just click on this YOUTUBE link to view the films. You will hear all explanations in the films in Czech, but you can chose English subtitles in the menu. Enjoy! 
PDF to download: Emperor-Route
With the support of the Culture Programme of the European Union