The Baltic Route of the European Route of Historic Theatres runs through Poland, Lithuania, Latvia and Estonia. (Please move your cursor along the Route to get detailled information on the theatres.)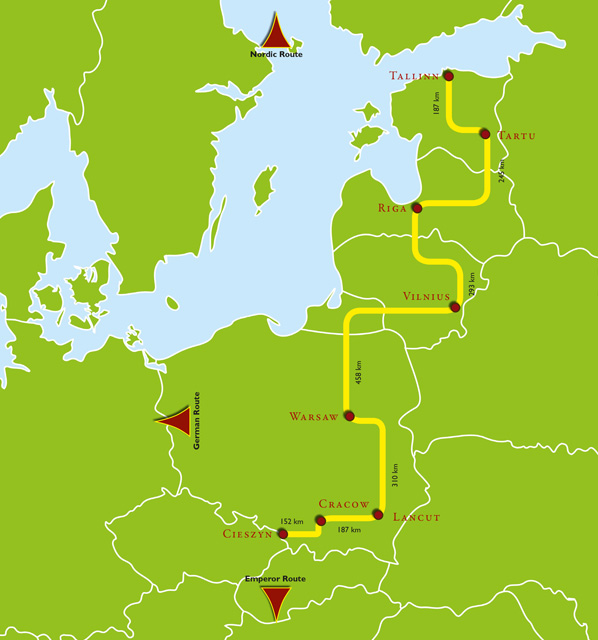 When setting off from the South of Poland, it is recommended to start in Cieszyn in order to visit the building of the Adam Mickiewicz Theatre, which was erected in the Art Nouveau style to a design by the famous Viennese partnership, Fellner and Helmer, in 1910. Cieszyn is close to Kraków, where in 1893 one of the most percious monuments of eclectic theatre architecture was built– the Juliusz Słowacki Theatre.
Not far from Kraków is Łańcut and its beautiful castle. The theatre on the 1st floor was created before 1792 at the order of Izabella Lubomirska. From Łańcut, the Baltic Route leads to the capital of Poland, Warszawa, where the Royal Theatre in the Old Orangery in the Royal Łazienki Park and the Arnold Szyfman Polski Theatre are both worth seeing. The impressive Orangery building in Łazienki Park was erected to Domenico Merlini's design from 1784 to 1788. Tucked away in the east wing is a theatre decorated by Jan Bogumił Plersch's paintings depicting 18th century theatre audiences. The elegant, tiny building of the Polski Theatre, designed by Czesław Przybylski, is an example of early modernist classism. The Polski Theatre was the first modern theatre erected in Poland in the 20th century.
After crossing the Polish border to the north we arrive at Vilnius, to the Lithuanian Russian Dramatic Theatre, built in 1912. The theatre building remains one of the most significant cultural buildings.
In Riga in the most presentable spots of the city we will find two historic theatres. In the Latvian National Opera four thousand grams of gold were used to decorate the auditorium. Whereas Latvian independence was proclaimed in 1918 behind the beautiful façade of the Latvian National Theatre.
Before arriving in the capital of Estonia, the Baltic Route travels to the Vanemuine Theatre in Tartu. When the 'Little Building' opened in 1918, the journal 'Postimees' proudly wrote: 'This beautiful, new building has enriched the country and we hope that its appealing energy will attract noble ideas straight to our homeland.'
And so we arrive in Tallinn, capital of Estonia, to enjoy the Estonian Drama Theatre, erected in 1910 in Art Nouveau style. It is the oldest preserved theatre building in the country.
 Detailled information on each theatre can be found on the map above and on the special website of the Baltic Route.
With the support of the Culture Programme of the European Union