The German Route
Counts, dukes and kings were the driving force of theatre life in Germany from the 17th to the 19th century. Let's make a journey to their theatres and find out what they have to tell us. (Please move the cursor across a city name to get information on the theatre.)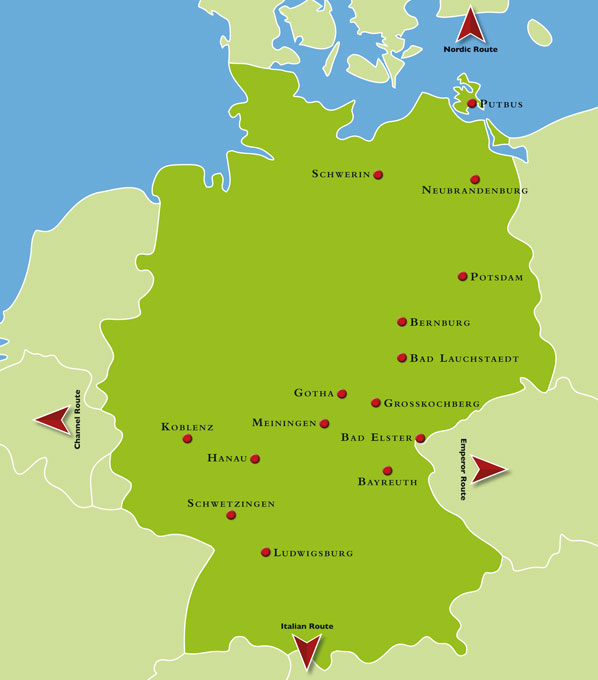 Our journey starts on the island of Ruegen. In this ideal holiday place the Marques Malte of Putbus built his ideal city–complete with a theatre (1821), of course. On the mainland, Duke Adolf Friedrich IV did not want to be without a theatre even in his summer resort Neubrandenburg, and so he had a summer theatre erected in 1797, a half-timbered building. The shining example was the Prussian king Frederick the Great who built four theatres. Of those four his private theatre (1769) in the New Palace in Potsdam-Sanssouci can still be visited.
Travelling south we enter Goethe's world. Near the city of Halle (Saale) where Handel was born we find the historic spa Bad Lauchstaedt and the Goethe Theatre which the famous poet had built in 1802. After a little excursion to Weimar we arrive at the private theatre (1800) of the Stein family at Kochberg palace. And finally there is the palace theatre in Gotha, the Ekhof Theatre (1681/1775).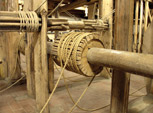 From Gotha, the centre of German theatre in the 18th century, to the centre of German theatre in the 19th century: Meiningen. Duke Georg II, the theatre duke, created a theatrical style that was copied throughout Europe. The style is embodied in the huge stage decorations that are still preserved and on display today.
Not far away, in Bayreuth, we find one of Frederick the Great's sisters, the Margravine Wilhelmine. She wanted to boost the image of her seat and built the most breath-taking theatre north of the Alps, the Margravial Opera House. It was inaugurated in 1748 on the occasion of the marriage of her daughter with the Duke of Wurttemberg. No sooner had the young couple arrived at their summer palace Ludwigsburg that they had a theatre built there, too (1758). Their neighbour, the Elector Carl Theodor of the Palatinate, was quicker: the Rococo Theatre in his summer palace Schwetzingen had been ready since 1752.
Prince Wilhelm of Hesse-Kassel thought more in commercial terms: in 1781 he ordered the construction of a "Comoedien Haus" near Hanau in order to lure guests into his new spa Wilhelmsbad. The archbishop Clemens Wenzeslaus had a similar idea, but lacking the financial means he left it to a Mr Schmitz to build and run the theatre (1787) in Koblenz. Thus our journey to historic theatres ends–or begins–with one of the oldest municipal theatres in Germany.
With the support of the Culture Programme of the European Union